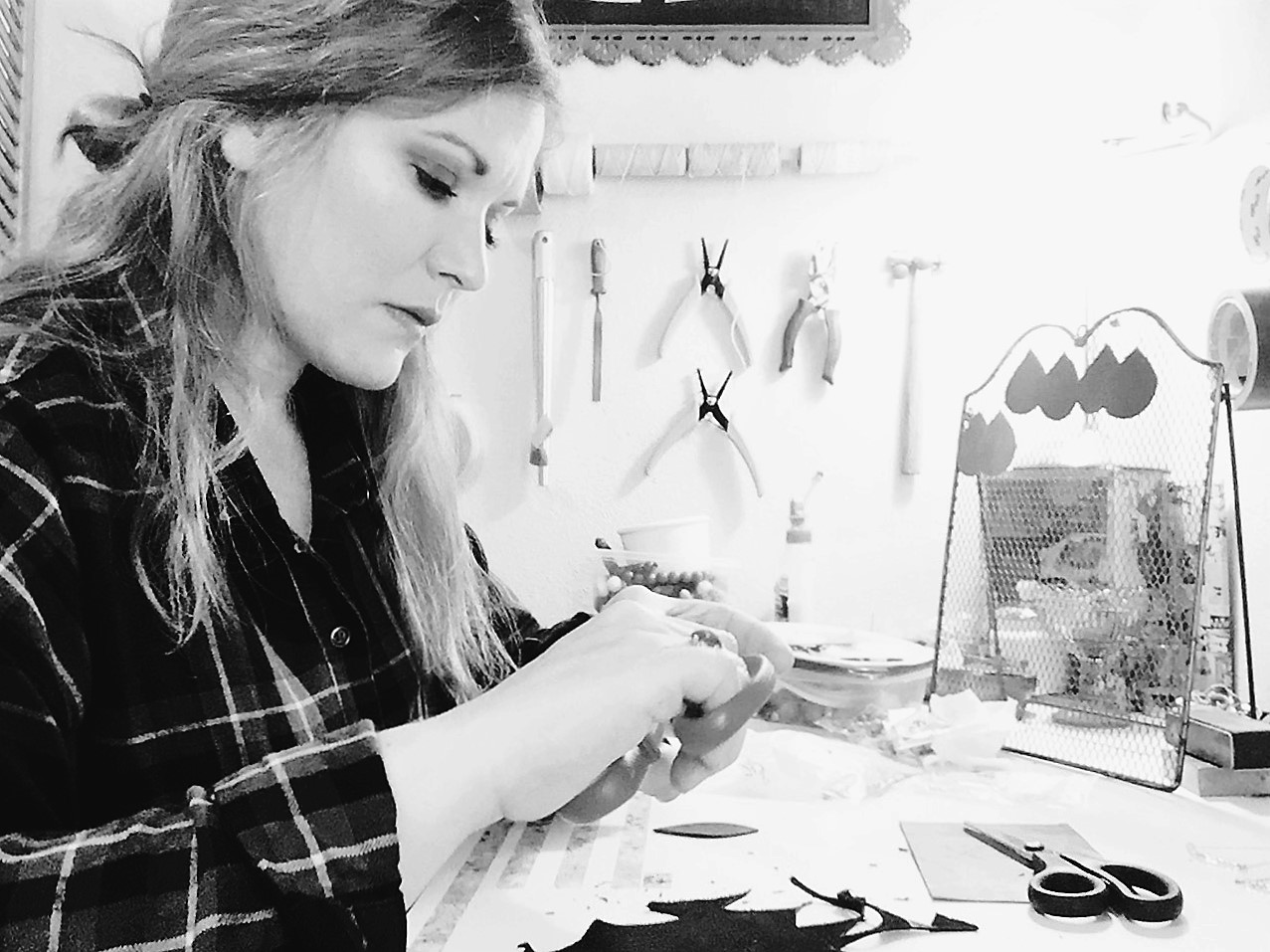 A CREATIVE DREAMER, A MAKER AND A DOER, ONYAH'S DESIGNER/OWNER, BECCA WEBB, IS INSPIRED BY THE CREATIVE IN EVERY DAY LIFE. THE OPPORTUNITY...THE GIFT TO CREATE ON A DAILY BASIS IS THERAPEUTIC. DURING A TIME OF LIFE IN WHICH BECCA NEEDED TO REST AND HEAL, ONYAH BECAME A LIFELINE. IT'S AMAZING WHAT HAPPENS WHEN YOU LOVE WHAT YOU DO!
HERE'S A LITTLE MORE FROM BECCA: "WE STARTED OUT WITH BASIC HANDMADE GIFTS LIKE BATH AND BODY, CHALK SIGNS, AND HANDMADE HOME DECOR. ONYAH'S BEGINNINGS WERE REALLY MORE A WAY OF SUPPLEMENTING MY INCOME AFTER I QUIT TEACHING. I WAS INTENTIONALLY TRYING TO START A SMALL BUSINESS, BUT I HAD TO DEAL WITH LIFE FIRST. MY WHOLE WORLD WAS KIND OF ROCKED UPSIDE DOWN AND I NEEDED TO TAKE IT SLOW. SO WE STARTED REALLY, REALLY SMALL. IT WAS AN INTERESTING RIDE, BUT ONE I DO NOT TAKE FOR GRANTED. IT IS THE WAY IT HAD TO BE AND I AM THANKFUL! THAT WAS IN IN 2012 (Officially in 2013). WE SOLD THOSE FEW GIFT ITEMS AND HOME DECOR PLUS A LOT OF ANTIQUES & VINTAGE GOODS. I HELD SHOP & SIPS OUT OF MY HOME. I was loving it, but it was tough!
Once I got through that season, i had a new energy for onyah. I had made leather earrings from a one pound bag of scraps i found at a flea market for christmas gifts (2013) and the next thing i knew…i had found what i loved to do and could see myself doing long term. BY THE END OF 2015, I WAS FULL TIME WITH ONYAH. BY MARCH 2016, WE LAUNCHED our WEBSITE. slowly adding fair trade goods and goods from other makers as well. THE LAST 6 MONTHS OF 2016, I HIT EVERY MARKET I COULD WHERE I COULD SET UP A BOOTH WITH LOADS OF NEW JEWELRY & goods. By the End of 2017, we developed wholesale and launched our wholesale site. I FOUND MY WAY AND CONTINUE TO DO SO IN THIS BUSINESS. And we have more new things to come...
I HAVE A CLEARER VISION AND A GROWING TEAM."
AS ONYAH HAS DEVELOPED AND GROWN, WE HAVE BEEN ABLE TO DEVELOP INTO THE BUSINESS WE HAVE DESIRED TO BE, A BUSINESS THAT REFLECTS OUR DESIRE TO MAKE BEAUTIFUL HANDCRAFTED JEWELRY, GROW AWARENESS REGARDING FAIR TRADE GLOBALLY AS WELL AS AWARENESS TO ETHICAL, SUSTAINABLY SOURCED GOODS, MATERIALS AND BUSINESSES. NOT ONLY THAT, BUT OUR DESIRE TO SUPPORT LOCAL & SMALL BUSINESS, AMERICAN MADE, HANDMADE AND OUR GROWING COMMUNITY.
ONYAH HAS BECOME AN OPPORTUNITY TO KNOW OUR NEIGHBORS, LOVE THEM WELL, AND LIVE ON MISSION. THANK YOU FOR YOUR SUPPORT...FOR ALLOWING US THIS OPPORTUNITY.